ZoŽ's Page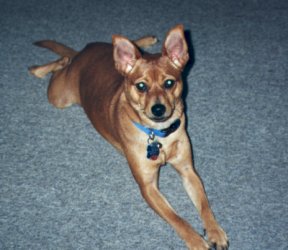 My name is ZoŽ and this is my story.

I've been at this god awful pound for 4 days now. Today my tummy kind of hurts because yesterday a weird man cut it open to take out my female parts, if you know what I mean. So far there isn't really anyway to escape except for humans taking you away. The sad cries of all the other puppies keep me awake. I am real tired. I'll lie down but I won't be able to get to sleep. At about 3, 3:30 PM two humans came in. They looked like they were just looking and didn't really want a doggy. They started at the first cage. They went from cage to cage each puppy. The older, bigger one, who must have been an adult or the parent of the other young one, was looking at EVERYONE. She was saying how cute they all were and that sort of thing. But the young boy came to me. I was so happy he chose me to look at. I tried to jump up and down because I was so happy, but I didn't for fear I would hit my head. So I just hit the bottom of the cage real hard with my foot. I was glad I did that. He liked me even more now. He yelled to his mommy to come look at me. She came and admired me. We played through the cage for a while till the mommy asked a lady, "Can we play with her?" "Sure," the woman said. So the boy opened my cage and picked me up. We went outside to the huge cement bone to play. We ran around for a while but then all of a sudden we stopped. I loved them and they loved me too! After a bit though we stopped. "DARN!" I thought. We came back in and the boy put me back in the cage. What a bummer huh? The boys mommy asked a lady, "How big will ZoŽ get?" she must have read my name tag because that is my name. "Not much bigger than that." the woman said. The boy wanted to get me and take me home but his mama said they couldn't. They left and I fell back down. I was mad at myself. I wanted to go with them, I thought I did something wrong. I was so mad at myself. I felt hurt and lied there for an hour or two looking across the room at Esther who found a way to sleep. About 5:30 PM, the same boy was back. I knew for sure it was him. He was wearing the same corduroy pants. He brought his dad, who had hair on his face just like me. I hit my foot even harder this time. Then they picked me up to play. We went outside and played some more. Then after a while the boy picked me up and we went out front. I was almost SCOTT FREE! The clerk said that they had to either put me back in my cage or play with me outside. So while the boys mommy did my paperwork me and his daddy played outside. I was so happy. I am really about to leave this god awful place! A few minutes later, we hit the road. I got my well-deserved sleep in the car. They had to do a couple of things before we got to their place. They went to a restaurant called Sonic. UM, that food smelled so good. I was too tired to beg for some though. After that they stopped at the grocery and then we were home! I was so happy. When they put me in the backyard I ran as fast as I could. My boy ran with me too. And then his daddy joined in. I ran so fast I even tripped over my own feet. Eventually we went inside. It was so nice here too! They tried to get me to eat and drink, which I did. Then they tried to get me to go peepee which I could not do! I didn't have to go. Then we came in again and I got some more sleep. Every now and then though they tried to get me to go peepee but I couldn't. Finally another older person got there. She wasn't that old though. Only 5 or 6 years older than my boy than human years. She was pretty nice and sweet. I liked her then. It was getting late. So I actually went Peepee and went to sleep. They woke me up later though to take me upstairs, where I was put in my bed and I went to sleep, where I would live the happiest days of my life.

THE END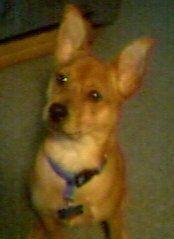 MY VERY BEST FRIEND
(a poem by Michael)
She sits there ready to pounce
She jumps through the grass, bounce, bounce
She spots the prey, hurrah, hurrah,
She chases it, it runs away.

She is my friend, my best friend
maybe that is why they call her species Man's Best Friend.

She lays with me on a bad day
She comforts me like the sunshine of May
Her pointy ears stab me like and arrow in the heart
Her warm red hair is like a piece of art.

ZoŽ is her name
Play is her game
She is my best friend
This is the end!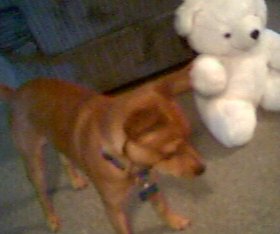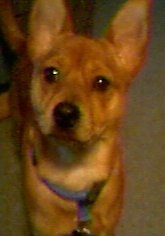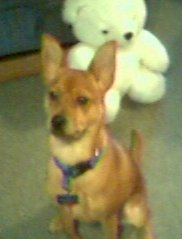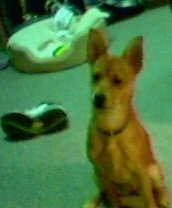 Oh, and one more thing.. I suck a monkey!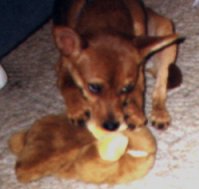 Here is a link to my sister's page: Shiloh's Page

This is my cousin Kirby. I haven't met her yet, but I think we will be good friends!
She is also a special pound puppy.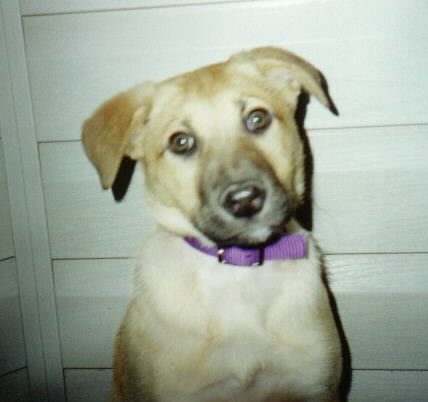 To download this music right click on this: Dogslife.mid
Adopt a dog for yourself at your local shelter!
Remember to always have your dog spayed or neutered to prevent having pets that are unwanted.
True Story by: Michael (grade 7)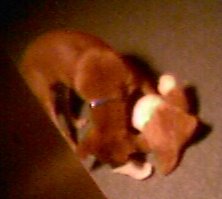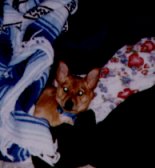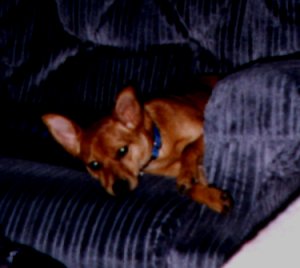 If you would like information on adopting a Miniature Pinsher visit IMPS