Welcome!!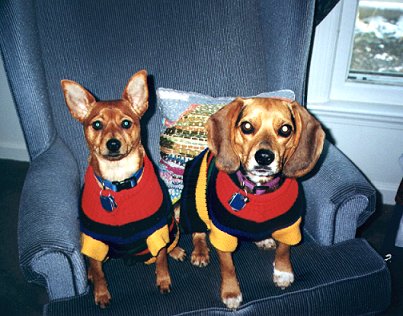 This is Zoë and Shiloh


First came Zoë...

In brief, Michael and I were out killing time on a boring afternoon. We decided to drive by the Humane Society - Animal Rescue Shelter to look at the puppies.
Michael fell in love at first sight with Zoë.

Can you blame him?




Who knew that Little Zoë would start it all!!!
Zoë is a Miniature Pinscher-mix. We are not sure what she is mixed with, but she sure is a sweetie!! Zoë was dropped off in an outdoor bin at the shelter. She was just about 12 weeks old.

She was soooo cute!!!
Zoë's best friend, sister and playmate is a Beagle named Shiloh. We got Shiloh from the same shelter just a few months after Zoë.
They are approximately the same age.
Read more of Zoë's story by clicking here:Zoë
(Michael wrote the story and poem about Zoë)
Zoë has a favorite stuffed animal. It happens to be a monkey. She suckles his face as if it were her mamma. Here is a picture of Zoë and Shiloh. Zoë is suckling her monkey.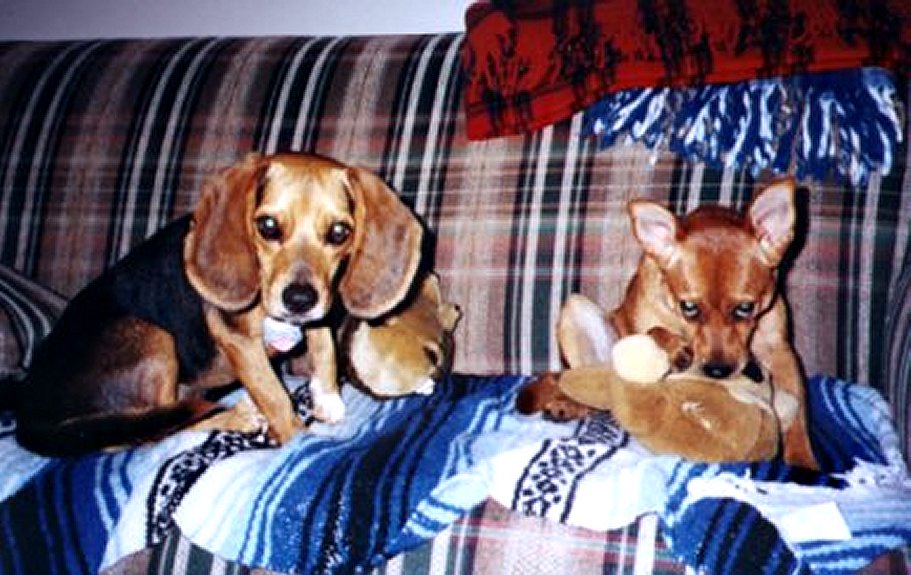 Shiloh is the sweetest Beagle. She knows two speeds, "lightening" and "out like a light!"
We found out that Shiloh had been taken to the shelter by owners who had been abusive and Shiloh had spent her entire life (9 months) in a crate. Poor Shiloh was afraid of everything, but she gave kisses right away. Despite how she had been treated, we saw the spunk in her eyes, her spirit had not been broken. All she wanted was some love.
Of course we had to adopt Shiloh too, so read her story by clicking here: Shiloh

WELCOME TO OUR LATEST MEMBER OF THE FAMILY, GENIE!
Genie was a foster dog but we couldn't part with her so we adopted her on July 18, 2002. She is about a year old and is quite a typical, hyper, Miniature Pinscher puppy!
She is a DADDY'S girl and has won her daddy's heart.
She sleeps curled up next to him under the covers.
Genie is a little girl, weighing in at around nine pounds, and LOVES to give kisses!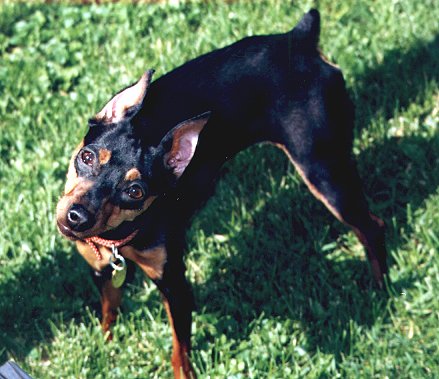 Don't you love her impish face?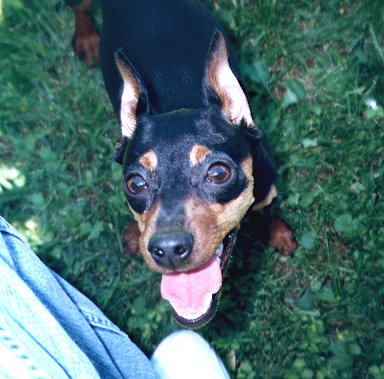 Zoë and Shiloh and now Genie share their home from time to time with foster brothers and sisters. They are very good hostesses and share their food and toys willingly. We do Miniature Pinscher rescue and fostering through the (Internet Miniature Pinscher Service) IMPS. Fostering Min Pins is very rewarding. We get to watch these little guys go from frightened and starving for affection, to valued members of wonderfuls homes. If you want to see the individual stories on each of our fosters, click on their pictures above. Some will take your to a linking site.


Click on the link above to take you to see our current fosters. They are wonderful!




Be sure to visit Angel's site!
This little angel was the inspiration for me to become a volunteer.
Cheryl helped me collect the story and I put Angel's page together.
I explain at the end how I have been rewarded by fostering MinPins.
Click on Angel's picture.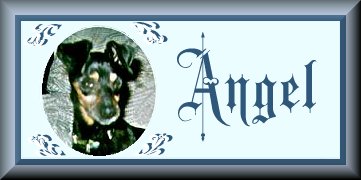 IMPS



Updated 2.25.05