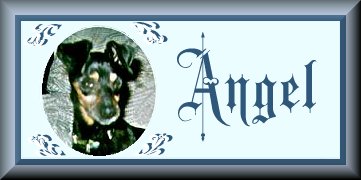 In the Beginning
Date: 4/12/00 3:11:18 AM
I have a female minpin coming in...she is 8-9 years, small, black and tan, with natural ears. She is a very sweet dog, house trained and does well in a crate. Her special needs are she has a condition having to do with small eyes and has limited sight...she is also diabetic and requires a shot once a day (about $12 a month). Other than that, she is sweet and healthy! She needs to go out more often to pee because of the diabetes. I have contacted one home in my region, but have not gotten a response, I hope we can find her the perfect home! Does anyone have any homes out there to consider?
Jeanese
Of course, Cheryl answered the call and volunteered to take this little "Angel."
"No one had room for her, no home seemed to want her, so I offered to take her."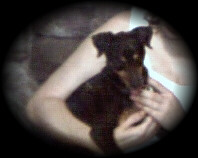 "It took almost 3 weeks to get the flight plans in order, but she was finally on her way. She arrived on Delta Dash on May 15th, her plane scheduled to land at 5:30 pm. We arrived almost an hour early and were told the flight was on time, but we would have to wait. We did, but impatiently. At about 5:15 we couldn't stand it anymore and went in, the clerk said 15 more minutes, and we decided to wait inside. But not more than 5 minutes later we saw the trolley come around and within a minute here came Angel in her yellow carrier. I was shocked to see her, I must admit. Her eyes were infected, her fur thin and coarse, her cheekbones sticking out, no muscle tone at all, all bony and thin. But, she came out to greet us with what we came to know as Angel's "what's up" pose, folded ears up, head up and slightly cocked, at full attention. When I saw her the first words out of my mouth were, "Hi Angel". She moved right in, making her self at home on Amanda's lap, as we took off for home."
"We arrived and placed her on the couch where she assumed the "what's up" pose and just drank in all the sounds and smells. I opened an envelope and read the letter from the vet hospital that had had her and was outraged at the name they had called her, Socket. That was cruel! I had called her Angel when I saw her, I am not sure why, but it was fitting. She certainly had had an angel watching out for her all that time she was on her own as a stray. So, Angel stuck.
We took her to the vet first thing the next morning where we got antibiotics for her eyes and a good looking over. She was diagnosed with micro-opthamalia, and diabetes. We already knew this, but I wanted my vet to get to know her and her medical conditions as soon as possible.
This would be the first of many vet visits. We went for blood glucose curves, senior blood panels, a dental cleaning, shots, wounds, and sometimes just to make me comfortable with her progress. She weighed in that first day at 11 lbs, and the doctor asked to wait to stabilize her before we did any routine vetting. We did get her sugar regulated, her eyes infections under control, her fur came in soft,glossy, and thick. She regained her muscle tone and the hollows in her face and body filled in. She was pronounced fit finally and her weight was 13.8 lbs. She looked like a different dog."
This is a picture of Angel with her Foster Dad!
To continue with Angel's Story, click here: The Angel (More of the Story)