Tue, 16 May 2000 00:52:12 EDT - from Cheryl
Hi, Mag, Here's Angel, who is blind and diabetic. Isn't she beautiful? It is hard to believe she was a stray, on her own for a long time. Anyone see a little black and rust guardian angel looking over her shoulder?
Cheryl
IMPS Cleveland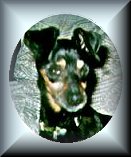 Sat, 29 Jul 2000 01:59:44 EDT - from Cheryl
I took Angel into the eye vet today. She was a little lady and even I was impressed! she is usually so wiggly when she doesn't want to be looked at, but was oh-so-good today. Doctor even commented on her superb behavior. This is what I found out today:
Angel used to be a regular little girl, she had big, brown,beautiful eyes. She had either a really bad eye infection or injuries to both eyes. Her cornea's have big huge scars on them, so the eyes either were impaled, or so badly infected. Either way, she was not attended to and her eyes died. They were not always so small, they are just atrophied. Her eye sockets are usually very red and that is from the tissues stretching to accomodate the shrinking eyes. It is obvious that this injury isn't new. The vet did say she has a wonderful disposition, not all dogs will be so nice after what she has been through. He also recommends adopting her to a home with 1 sighted dog, as they should bond and the sighted dog should help her. His theory on Woody is that she tried to be friends, he shunned her and she wants to show him a thing or two. I don't know! He has left the decision to take the eyes to me, he thinks with proper management we can avoid the infections which have plaged her. It seems the constant use of the antibiotics are killing off the good bacteria in her eye sockets and leaving her open to more infections, and she is also becoming immune to the antibiotics. We are going to use sterile eyewash 5 times a day or more, a good throuough flooding followed by lubricating drops. The only advantage to the eye removal is easier management for me. The eyes are dead and she is in no pain. I am pretty angry at this person, who ever he is, who did this to her, then left her to fend for herself!
Cheryl & Angel, double trauma (?)
IMPS Cleveland,Ohio