Welcome to this Min-Pin story page!

Hope you enjoy your visit!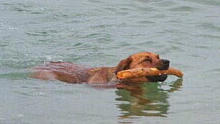 This is Jess- my MinPin Aussie mix was adopted when she was a year old. She was picked up by a local breeder at a dog show when she was a puppy. The woman planned to place her, but never got around to it. So, unfortunately Jess lived in her kennel for her first year and a half. I learned about her from a friend and went right out the next day to pick her up. She was totally unsocialized and frightened of strangers and I had to sit on the floor and wait for her to come to us. She came, eventually and we got a leash on her and took her home. That night she snuggled with both of us, but was totally frightened. I slowly started exposing her to new things, but soon learned that she was not good with kids or strangers and we would have to take things slow. She had never had any shots or wormer and after a trip to the Vet's we found she was loaded with Hookworms, Whipworms and Roundworms!!!
After two years she is much better adjusted, but may never be totally comfortable about kids or strangers. She is excelling at Agility and is an awesome Obedience dog. She has learned all sorts of tricks and will even bring me a tissue when I say "Ah-Chew"!!! She is the best little girl!!!


This is Colby- Colby is an IMPS dog who was originally bought by a college kid from a Pet Store. Come winter and after school started he just couldn't handle her and told rescue to come get her NOW or she was going to the pound. She was only five months old!! We adopted her knowing that she was very high energy, but she comes to work with me and gets plenty tired out. She loves to go cross country skiing!! She is very well adjusted and loves all people and other dogs and even kids!!
She is a super dog, she just has tremendous energy. We are doing Agility and Obedience and she even won her first Agility match the other day!!! She has pretty bad allergies in the summer and we are using Homeopathy and Holistic approaches and have gotten things pretty well under control. Her coat and skin look awesome!!!

| | | |
| --- | --- | --- |
| | | This is Phoebe- she was picked up at a shelter after being returned several times for reasons unknown. This was one VERY frightened dog. |
She had escaped one home and was loose for a week in the cold fall weather. Animal Control had to be called in to catch her from under a shed!! Phoebe was fostered in Maine for three months and was slowly coming out of her shell. She was so scared that if you put her down all she wanted to do was run for the hills as fast as she could!! We suspect abuse, but decided to quit searching her past with concerns about who might have done this to her. She wouldn't walk on a leash, she would just freeze. After some time and patience she improved and was placed in a home with a retired couple and will be spoiled and treated like the queen that she is!! She is and will always be a frightened case, but time has improved her attitude and she is the sweetest little thing.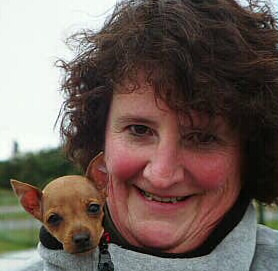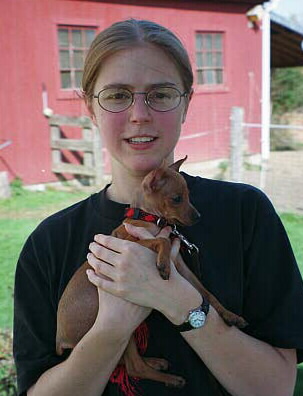 Clyde- was bought at a pet store and THEN the people asked the landlord!! DUH!! The pet store wouldn't take him back, so he came to rescue. He was only 9 weeks old!! He was adopted by a Veterinary Technician in Maine who gets to bring him to work with her. Everyone at the office loves this little guy!! This is a perfect match and they get along so well. He is just a doll!! She calls him Rory, which is Gaelic for "red" which is what color he is!! He is doing well in Obedience, but needs to learn to settle some. He is a live one, that Rory!!!
| | | |
| --- | --- | --- |
| | If you would like to know more about IMPS and the work we do to find little pins the perfect home, then visit our site: | |