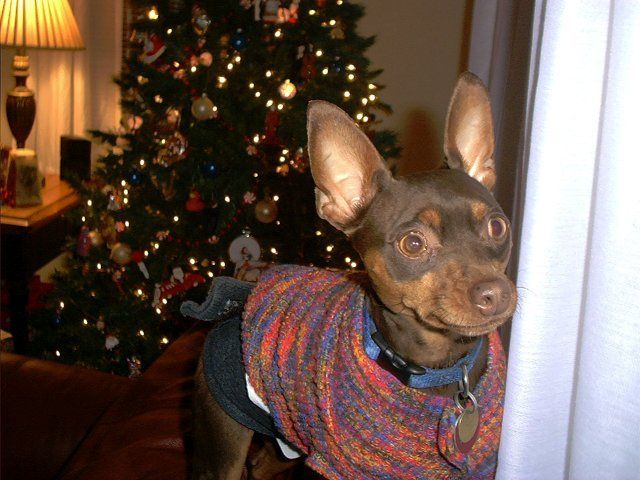 I got Max in June of 2004. He was 4 years old. He came from an abusive situation. He was scared to death and bit me several times out of fear when I first handled him. With much patience and persistence, we won Max over. He loved to snuggle with all of us. He got to the point that he would even go to strangers and jump in their lap. (after a few minutes warm up) Pam Sutton can tell you how he jumped in her husband's lap and just sat there. We almost fainted!

I never thought he would be adopted. He was a good example of bad breeding. He was just always weird and so ugly he was cute. He had bug eyes and huge ears. His potty habits never got better. He would pee and poop where ever he felt the need. He was just too cute to scold. When he knew you were upset with him, he would wiggle his little nub so hard that he wagged his whole body.

Then one day out of the blue, an angel came along. (you all know the type.) She fell in love with him for the same reasons that I loved him. She overlooked his flaws.

Just a month after Danielle adopted him, he got sick. She had tests run and learned from her vet that he had a congenital heart defect that was causing him to go into heart failure. His liver was also already very damaged. There was no hope for improvement. His liver wouldn't tolerate the heart medication. They had no choice but to let nature take it's course. Today I received word that Max is in a better place and no longer has any pain. Danielle loved him for 6 months ...he was her little punky nose, her baby, spoiled and pampered.

This picture of Max captures his personality. He was always scared but too curious and mischevious to leave things alone. He was Max, Maxi doodle, Cutiepie Max. My heart aches. He joins my Lady, Honey, Brandy, Sockie and my fosters Teeny and Cita. Please say a prayer for Danielle and her Mom. Their hearts are aching as well.