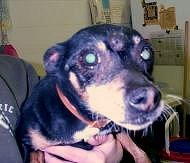 Cita is a Miniature Pinscher, but probably not full breed.
We think she has a little Jack Russell in the mix.
This "little old lady" is at least 13 or 14 years old.
She was turned into a shelter by owners who could
no longer afford her care. Cita was very ill with kennel cough and had a huge
cyst on her forehead, right between her eyes.
She also had an enlarged heart and cataracts on her eyes.
She became dehydrated and the vet said that if IMPS
had not rescued this little girl and taken her to the vet,
she would have died.
She was so sick that she had to stay in the hospital
for nearly a week.
She became very depressed in the hospital and wouldn't eat. For days, we brought Cita home during the day
and would take her back to the hospital for IV fluids at night.

With lots of love, she finally decided she wanted to eat and we were so happy.
Cita started to mend on antibiotics and medicine for her heart.
We thought Cita would live out her days with us.
We asked everyone we knew for donations to help lower her tremendous vet bills.
A friend of one of our neighbors made a huge
donation that helped a lot.
Cita began to surprise us with her spunk and tenacity!
She got along well with our other dogs and she actually would initiate play with them.
She was soooo cute.

Here is a picture of Cita singing. She is in the middle with Reiley and Rose.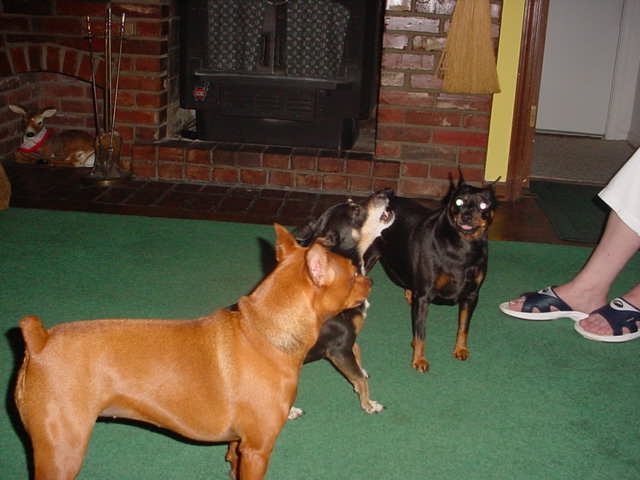 Cita LOVES to perform!!
ALSO, MUCH to our surprise, a wonderful couple
(Diane and Garland) decided that they wanted to give Cita a forever
home with them and their other five MinPins,
Daisey, Dudley, Dixie, Denny and DJ.
They thought about changing Cita's name to Dolly so that her name would
start with a "D" like her new brothers and sisters,
but Cita knew her name too well and got confused.
They decided that Cita would just have to keep
her name and be special!

Cita now has mastered the doggie door!
She checks first with one of her paws to make sure the door is open.
With her cataracts, her vision is limited but that doesn't
stop this crazy little girl.

Diane and Garland have helped this little girl thrive.
They took her to the vet and had surgery done to remove
the benign cyst. Cita came to stay with us while they took a short trip
and we couldn't believe it was the same dog!
She was so beautiful!
On a good diet, she has gained weight and her coat is
smooth and shiney.
Even her eyes look clearer!

Thanks to IMPS, lots of love and medical attention,
Cita will live out her days in comfort.




Sadly, Cita passed to the Rainbow Bridge on January 30, 2005.
We will sure miss you little, sweet girl.

To see how to adopt your own special Miniature Pinscher visit:
www.minpinrescue.org