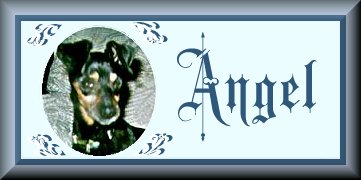 The Rest of the Story - The Final Days
"I hadn't told Pat (my husband) that Angel was coming home, I wanted to surprise him. Sometimes I think he loved her more than I did. He was working nights and Angel and I were up early that morning waiting for him. She was in her corner of the couch, sitting in her "what's up" pose, seems like she knew we were going to surprise daddy."
"He walked in and glanced at the couch as he walked by, but did a double take, looked at her and said "Angel?" She stood up wagging fast as she could, he grabbed her and kissed her, she of course kissing back. As I explained what had happened he held her and loved her with all his might."
"We were so happy to have her back. We gated the rooms off to allow Woody some space away from Angel.We tethered her to her spot on the couch. We blocked the deck off. But she was more determined than ever to bite him, and the fights got worse. We went to the vet's for wounds more often as she found ways to get him, her wounds getting worse. I once again decided I had to find her a home where she could be safe."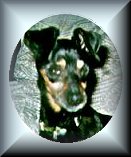 "I adopted Angel to Darlene, who specifically wanted a special needs dog, she actually adopted Angel and Joy another diabetic MinPin I had in foster care. I was so very happy for Angel, she had the perfect home at last."
"Angel seemed to fit right in and as always, everyone loved Angel, and Angel loved everyone".
"Angel was with Darlene a short time when she went in to hyperglycemia. She went so high that she went into a coma. She was hospitalized for 2 days and peacefully left us on November 25, 2000. I had tried to get to see her one last time, but I was too late, she left before I arrived. She was with us too short a time."

Cheryl
Here is Angel's story told by Darlene:
We went to meet Cheryl to see Angel and when we got there we couldn't leave without Angel and Joy both. So off we went with both of them. It took Angel a while to learn how to get around the house but she quickly learned that OOPS meant she was coming near to something and would turn on a dime. It didn't however take her long to learn that there was a blanket on the chair and how to get under it. She loved her blanket and you could find her there any time. I also have labrador retrievers one of which, named Timber took a special liking to her. He would spend endless time just walking around the yard with her and even cleaning her eyes for her. It was so cute to see this big lab catering to her every turn in direction in the yard. We have a five acre farm and she even found a small abandoned corn crib on the property and learned that if she went there Timber would follow and they would cuddle up together like sister and brother. She very quickly held our hearts in the middle of her paw. Even with the diabetes and being blind she seemed so strong I thought we would have her for many years to come. She would lay in the chair with Terry each evening and "watch" tv. That was their special time together when he got home from work. He very much misses that time now. She even learned to climb the steps up to our bed were she slept under the covers at night. She was very intelligent, it seemed nothing got in her way. Even though she couldn't see she was so happy and got around so well you would never know it. She loved to play tuggie with blankets or socks or even your shirt sometimes. She was much like a puppy in an old woman's diseased body. I'm so thankful that IMPS was there to rescue her and for us to adopt her from even for the short time we had her. I am better for having been with her. She quickly taught us that even with all the problems she had, she never gave up. I hope that if I'm ever faced with the same I can be as happy and zesty as she was before she left. Angel has taken a large piece of our hearts with her and we look forward to the day we can again she her across the rainbow bridge.

Darlene


This is NOT the end of Angel's Story, as she lives on in the many lives she has touched. I think I can speak for all of the volunteers of IMPS when I say that Angel touched us all. I read Angel's brief history when I was thinking of adopting another min-pin. Because of her story, I felt I could do more for min-pins not by adopting, but by becoming a foster parent for min-pins in need of shelter and love between homes. Thus is the beginning of my relationship with IMPS. People have said "I could not foster. I would get too attached to the dog." My answer to them is, "As I shelter a min-pin I do get attached. I get very attached, but I try to look at it as being in the process of wrapping a beautiful package for a special person." I do not adopt the dog out until I feel pretty certain that I have found the perfect person. It does not always work, especially in the case of a special needs dog. Angel had special needs, but she was also a special little dog. Cheryl, Darlene, Jo and Cinda cared for her, loved her and gave her a happy life where she knew she was loved. Her life mattered. I am sure Angel is now with Lister, looking over the other little min-pins of the world that are in need.
Thank you Cheryl and Darlene for telling Angel's story.